Elysium By Bondassage® A New Realm Of Pleasure …
 Suspend Time. Transcend Reality. Experience Elysium.
Bondassage is pleased to introduce Elysium, a unique new creation designed to bring you to previously unknown heights of bliss. A slower, softer version of Bondassage (the focus is on devastatingly slow, connected, innovative  massage) ~ Elysium stretches your erotic boundaries, transporting you to new realms of pleasure.
Focusing on your sole satisfaction, using a unique combination of ancient esoteric massage techniques, Elysium combines a mesmerizing sequence of extraordinary touches, enticing all of the senses. Expertly controlling your state of blissful relaxation, Elysium provides a multi-dimensional experience designed to expand your sensory boundaries.
Elysium focuses the senses, alternating soft brush strokes, excruciatingly slow massage and expert caresses with soft, silk bondage, and sensory focusing tools. Elysium brings you the ultimate sensual experience.
"In Greek mythology, only those specially favored by the gods entered Elysium and were made immortal …"
Experience the ultimate in innovative body play. Elysium raises the bar of bearable bliss to new and untried peaks. Designed for massage enthusiasts seeking the ultimate test of self control.

I come trained in various modalities: Sensual Massage, Tantra, Sexological Bodywork, Fetish, Taoist Erotic Massage, Kink, Reflexology, Reiki and Yoga. I am fully trained and certified in the Art of Bondassage® and Elysium by Bondassage® by Jaeleen Bennis, the creator of this unique and innovative style of sensual bodywork, and I am one of her East Coast Trainers.
"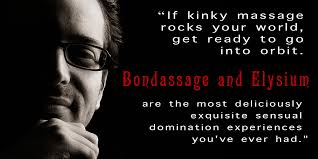 90 minute experiences $400
120 min experiences $500
120 minutes for Couples $500